Laboratories: :
Well equipped laboratories which are upgraded and maintained with due responsibilities help students to get acquainted with the practical settings.

Fundamentals of Nursing Lab :
We have got a well equipped Fundamentals of Nursing Lab to provide basic training in fundamental procedures in the art of nursing. Procedures can be demonstrated in the dummies provided. All the fundamental articles have been provided.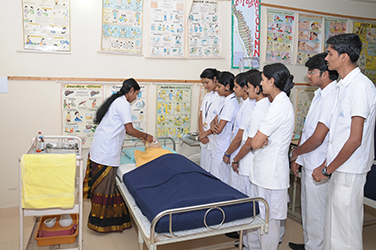 Community Health Nursing Lab :
Our community Health Nursing Lab have got adequate number of community bags and all the articles needed for community practices. There are plenty of models and other audio-visual aids such as charts, transparencies, slides etc. Our students used to conduct report presentation on field practice in Rural and Urban community areas. Our students conduct Health Talks, Drama, etc in the community settings.
Maternity and child health nursing lab :
Our students gain adequate practical knowledge in the field of gynecology and obstetrics through procedure demonstrations conducted in our maternity and child health nursing lab. Our lab is completely equipped with all needed articles, dummies, models, charts lithotomy table, cradle, infantometer, etc.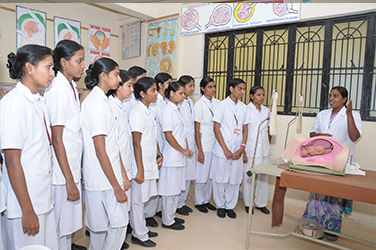 Nutrition Lab:

Our students conduct nutritional programmes every year and they are trained well in the planning and preparation of balanced diet, and a number of recipes suitable for specific disease condition. There are plenty of models which help the students to get "see and learn" experiments.